ROTW # 14
The contest between the best builders of Hangout!
---
Room of the Week , or ROTW, is a weekly article contest where you get to create a room based on what the theme of the week it is. It's an exciting way to show off your talented building skills as well as win GOTW (Gamer of the Week) points, all sorts of ltds, diamonds, and credits
Now, for the winner of last week's competition THEME:

ENCHANTED FOREST!





---
In 1st place, Gia! A warmer more magical feeling that she created using tropical pond, low hanging vines, florals and even tiny twinkling lights. Real foliage, ferns and leaves definitely add authenticity to the room. The use of moodlight that definitely add movement and create layers of texture and ambience. Dressing the room with greenery, small log house and Giant screens depicting forest creatures, or scenic imagery creates an enchanted look. This is another world other users have entered. Allow them to be in a place where they are free to leave reality at the door.
Her room can be found in the link below!
Deep in the Woods
---
In 2nd place is Derrick! Transforming a blank canvas into a magical world takes creativity, the tools and a lot of skill. The type of room that you choose is limited only by your imagination. An experienced builder, with the knowledge and talent, will take your ideas and bring them to life. Twisted willow trees decorated in fairy lights are another great centerpiece option for an enchanted forest. I love all the furni in this little room! It's so random, but perfectly so.
His room can be found in the link below!
Fairy's Forest
---
In 3rd place is Zeix! Bring everything together as one. Branches, houses and vines can all create the right feeling. Despite these more-friendly-than-wicked vibes, though, You wanted to make sure the room was appealing. A contemporary design style mixed with lots of bold brown and orange houses in the decor seemed to do the trick! With this immersive mindset, you have the capability to transport people somewhere far away, It's the subtle art of connection through ambience and tone. Up top, that's a very powerful thing.
Her room can be found in the link below!
Witch's Lair
---
We would also like to give a Honourable mention to:
Her entry can be found in the link below!
Her entry can be found in the link below!
To claim your prize, seek me out through client or discord
Thank you to everyone who participated and helped make this event a success! Stay tuned for our next theme!
And the theme for this week is:

Public Market!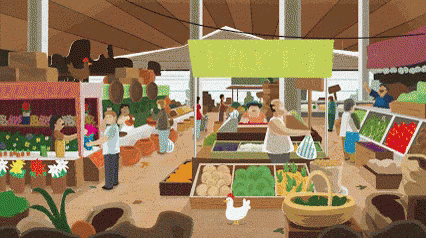 The design will take into account many factors. We understand that a public market is a unique public space and place--not just a building--and the integration of uses and activities to create an experience that will draw customers past their convenient supermarkets is an essential requirement. All of the tasks completed in this phase are summarized in an attractive, comprehensive and cohesive room.
Build it and they will come!


FIRST: Gold Trophy, Gold badge, 300 000 credits, 300 diamonds, 100 HP, LTD, 8 GOTW
SECOND: Silver Trophy, Silver Badge, 200 000 credits, 200 diamonds, 70 HP, Rare Wearable, 6 GOTW
THIRD: Bronze Trophy, Bronze Badge, 100 000 credits, 100 diamonds, 50 HP, 4 GOTW
• Please keep in mind to create a new room and don't reuse any of your rooms.
• Reference is good but please do not copy other rooms (Originality is one of the criteria!)
• To prevent plagiarism, we suggest locking your room, either with the doorbell or password.
• We are strict with the deadline so please keep that in mind
• Please read carefully how to enter this week's competition
We are looking for rooms that distinguish themselves from the rest and leave us in awed admiration. So be bold and be innovative! Keep in mind that we are looking for creativity, effort, detail, and originality more than just a big room. Sometimes less is more! Ultimately, try to make your room stand out from the rest but if you need some inspiration don't be afraid to turn to google for some ideas, just don't copy the entire room or big parts of it.
Please name your room: ROTW#14 (Name of Entry)
Please follow this format so we can find your room!
Deadline is June 28, 2020 8:00 PM (GMT+8)
Click here to submit and follow the necessary steps in submitting.
If you have any questions, feel free to contact me on the hotel or through discord! (Rhea#0013)
We're looking forward to seeing your entries this time. Good luck!
All the best,